Leadership Author & Speaker
John Maxwell
John C. Maxwell is a #1 New York Times bestselling author, coach, and speaker who has sold more than 26 million books in fifty languages and trained over 6 million leaders worldwide. In 2018 we were selected by John's senior leadership team to market nine of his core products. This included the launch of his book, The Leader's Greatest Return, and live Atlanta event Live2Lead, which included special guests, Rachel Hollis, Marcus Buckingham, Chris Hogan, and Angela Ahrendts.
Strategy, Digital Marketing, Copywriting & Messaging, Design & Custom Social Graphics, Facebook Advertising
In total, we worked on four main areas of the business: (1) digital marketing, (2) copywriting and messaging, (3) design, and (4) Facebook advertising. For digital marketing, we developed email and social media campaign strategies, and conducted psychographic research and developed buyer personas. For copywriting and messaging, we wrote copy for email campaigns, product landing pages, course descriptions, social media posts, and supplemental learning materials, like the Growth Map for John's Complete Digital Library.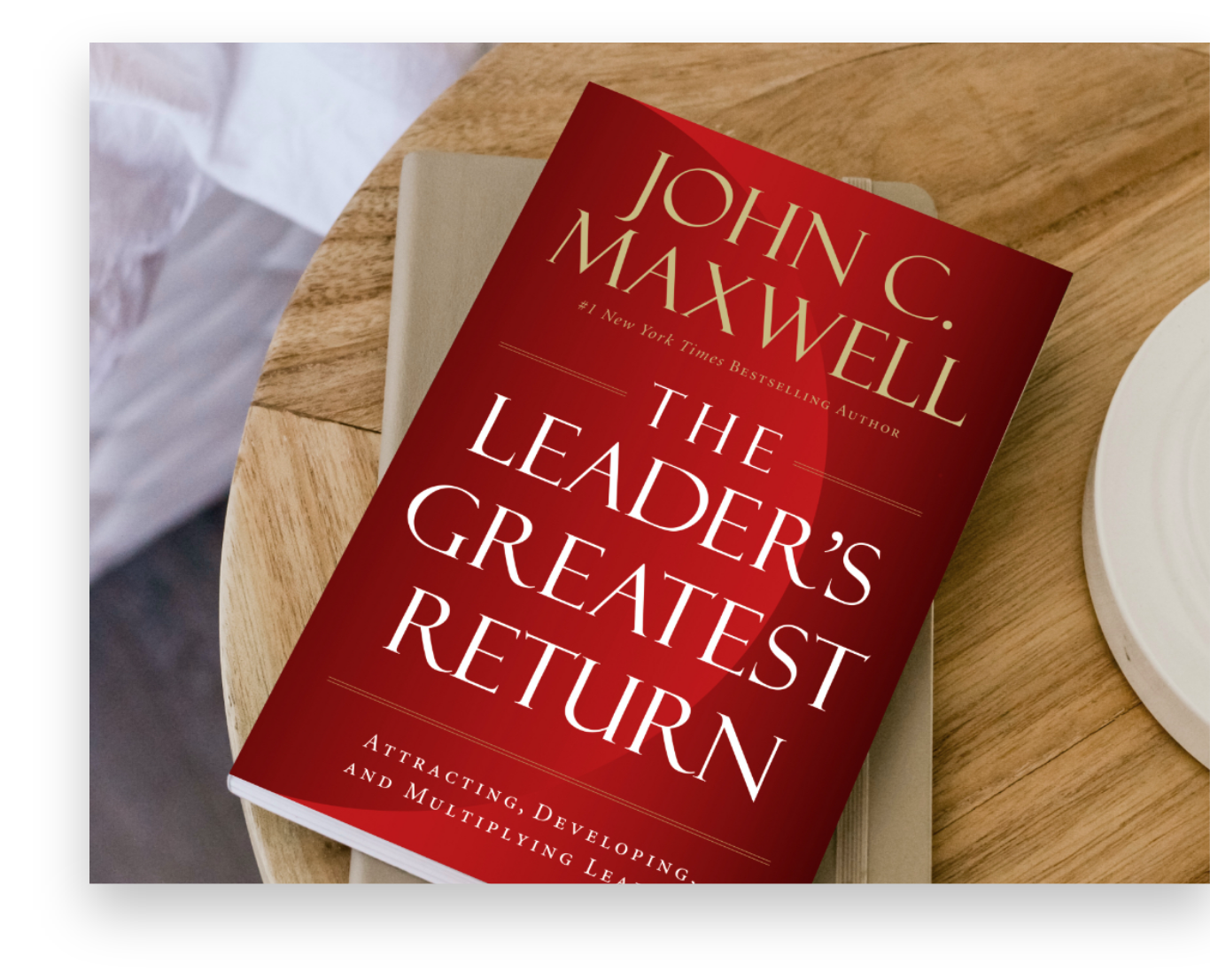 Affari, the go-to team for John Maxwell's book launch, The Leader's Greatest Return

Working in partnership with publishing powerhouse, Harper Collins, and John Maxwell's Director of Personal Leadership Solutions, we developed three full digital marketing campaigns for John's book launch in December 2019. These campaigns included strategy development, email copywriting for 16 emails, social media copywriting for 70 posts across Twitter, Facebook and Instagram, custom designs for emails and social media posts, and full Facebook ad management, including strategy, copy, and creative.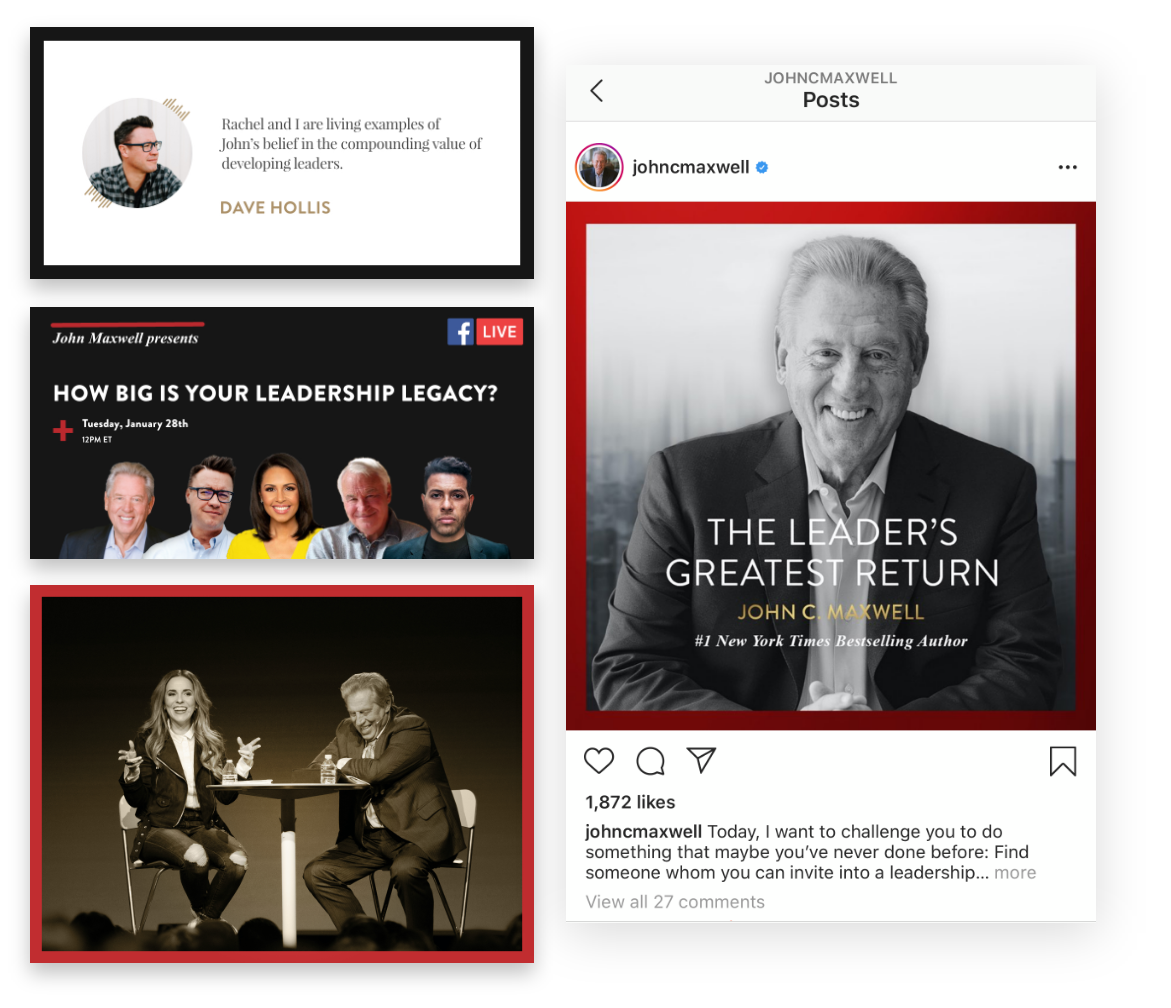 Driving engagement with customers around the world
We delivered two full digital pre-order campaigns, and our Facebook ads drove 250K users to the Harper Collins product page and generated 24M impressions. For the third book promotion campaign, which was a Facebook live event featuring Adrienne Bankert, Tom Golisano, Gerard Adams, and Dave Hollis, we attracted over 2K people from all over the world to attend.
9 Products & 11 Campaigns
In total, we worked on 11 campaigns for nine different products: Live2Lead in Atlanta, Leader Core, Leadershift, Advanced Growth System, How Successful People Think, The Complete John C. Maxwell Digital Library, John's book launch for The Leader's Greatest Return, including his Facebook live event, and last, the digital course for The Leader's Greatest Return.
Lifetime Statistics include 5.81 Ad Conversion
We played a critical role in advertising John Maxwell's products on Facebook from January 2019-March 2020. We saw a 5.81 total conversion rate on their ad spend. We generated 45M impressions and reached over 10M users. The total CPC for the lifetime of working with John's brand was an average of $0.18 and we produced over 700K clicks.
4.86 Return on Ad Spend
For John's book launch, The Leader's Greatest Return, we produced a Facebook ad campaign, including strategy, copy, and ad creative, that reached 7.6M users, garnered 24M impressions, generated a 5.20% engagement rate, with a CPC of $0.01. From March 2019-March 2020, we generated a 4.86 return on ad spend.
Doubled Attendance for Live Event
As a result of our partnership, for Live2Lead 2019, John's team saw the in-person attendance double and it has been the most well-attended event to date. For the Live2Lead event, we conducted market research and developed buyer personas that were used in the Facebook advertising campaigns.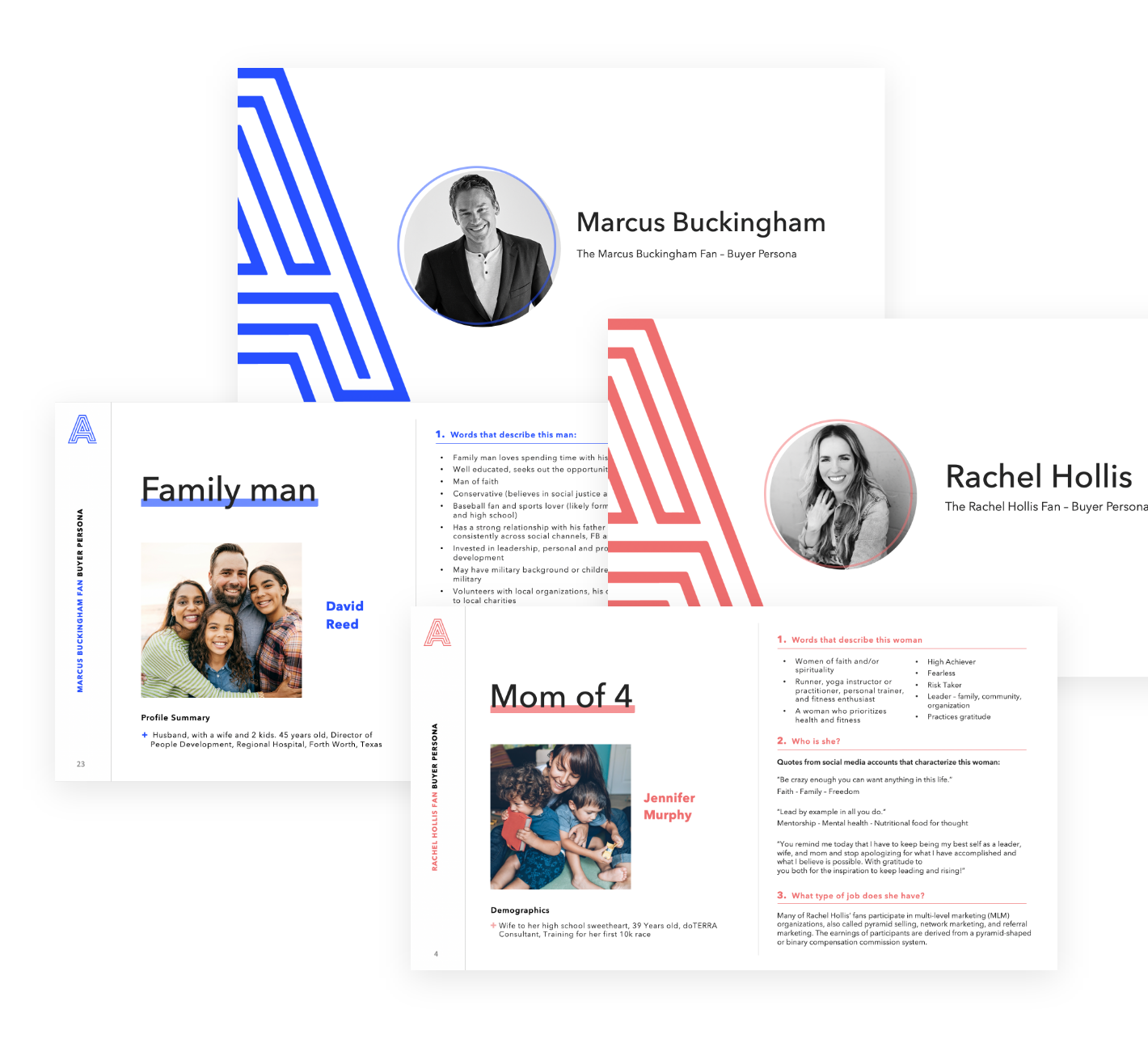 Buyer personas provide
critical audience insights
How do you get your customers to take action? By getting to know them on a deep level and serving their unique needs. Buyer persona development is foundational to any strategic marketing plan and was the key to our success for the Live2Lead campaigns we delivered for John's live event.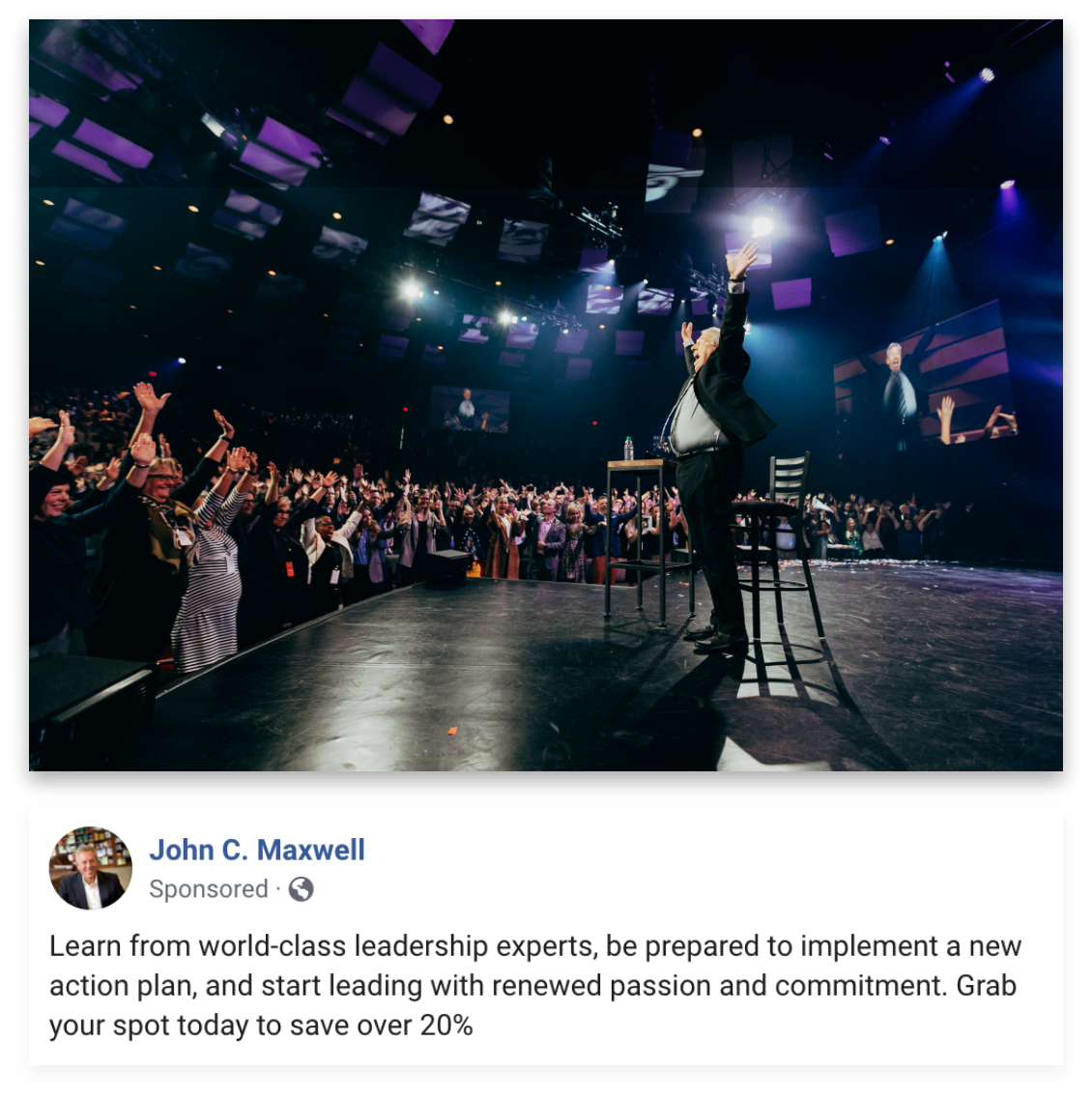 Promoting a Live2Lead event that produced record-breaking attendance
2019 marked John Maxwell's sixth Live2Lead event, and afterward, he reflected, "With all respect to every person who helped us with the previous five, it was our best Live2Lead ever. We had our most simulcast sites (326), our highest live-site attendance (over 1,700), and together we had over 40,000 total participants! I love seeing numbers like that."
As part of the event promotion, our Facebook ads reached 227,933 users, produced 683,777 impressions, had a CPC of just $0.69, with an engagement rate of 2.81%. Working together as a team and collaboratively with our client, we were able to produce incredible results and impact the lives of leaders all over the world.